The Kitchenside Bakery, Looe
Bay House, Higher Market Street, Looe, Cornwall PL13 1BS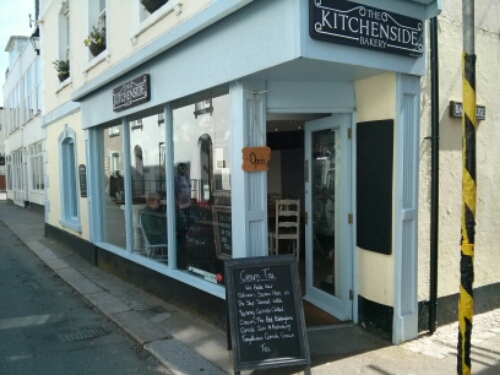 Sunday 4th May 2014
SCONES
As you would expect, the scones at The Kitchenside Bakery were made on the premises. We chose one plain and one fruit scone which were fresh and quite large. Unusually, they were both cut in half for us in advance. However, the most disappointing thing about them was that the fruit scone was so crumbly it completely fell apart, so much so it was very difficult to add the cream and jam and quite impossible to pick up to eat. In hindsight, we really should have sent it back.
CREAM
Clotted and sufficient for the four open scone halves.
JAM
Strawberry and (as with the cream) just enough for the scones.
TEA
Tregothnan Early Grey bags served in a lovely vintage-style teapot.
AMBIENCE & SERVICE
We really liked the décor, style and background music at The Kitchenside Bakery. The vintage, mixed china was charming and the staff were all very pleasant.
Score: 5.5/10