Lauderdale House Cafe, Highgate
Waterlow Park, Highgate Hill, London N6 5HG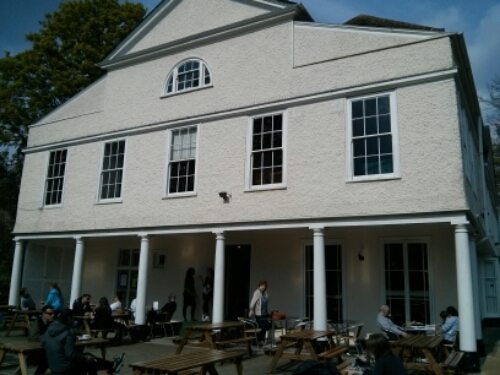 Sunday 21st April 2014
SCONES
One large fruit scone. Dry, dense and not so fresh. The worst part though was that they were cut in half and pre-loaded behind the counter. This was the first (and hopefully last) time we've encountered the cream tea being prepared for you. The whole ritual of cutting the scones and adding jam and cream (in whichever order you prefer!) is an important part of the cream tea experience – we might as well have ordered a doughnut.
CREAM
Oh dear! Not only was it not clotted cream, but it came out of a machine which gave the effect of spray cream.
JAM
Strawberry. Pre-spread.
TEA
Twinning Earl Grey bags which was the best part of this cream tea.
AMBIENCE & SERVICE
The setting here was lovely. An attractive garden on a beautiful, sunny Spring day. Sadly, the cream tea was the worst we have experienced so far on this site. Shame.
Score: 3/10