Lobster Pot, Portland Bill
Portland Bill, Portland, Dorset DT5 2JT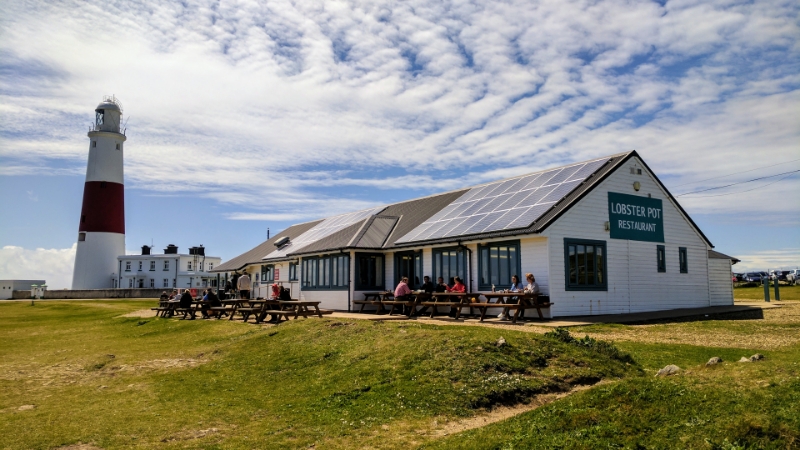 Saturday 20 May 2017
SCONES
The homemade scones at Lobster Pot are not your everyday round variety, but are large and square; rather more like a cake than a traditional scone. It was served warmed and had a nice outer crunch and inner softness with plenty of sultanas.
CREAM
The delicious clotted cream was served in a white ramekin dish and was a good quantity for the two open scone halves.
JAM
The 28g jar of Tiptree Strawberry jam was barely enough for the size of the large scone cake. However, as there was plenty of fruit in the scone itself it wasn't missed.
TEA
Lobster Pot is a restaurant rather than a tearoom, so we didn't expect a wide choice of teas, so we weren't disappointed. Amusingly, when we asked what type of tea they had, the first choice was 'strong'. The stainless steel pot of bagged Earl Grey was absolutely fine.
AMBIENCE & SERVICE
Having earlier eaten (and enjoyed) lunch in the restaurant, we decided to have our cream tea outside in the sunshine, on the picnic benches overlooking the lighthouse and glorious sea views. This meant we didn't benefit from the waitress service, or metal cutlery we would have otherwise received.
We very nearly lost half a scone to an opportunistic seagull, who swooped as we were lining up a photograph. Thankfully, he was thwarted at the last split-second.
SCORE
7/10 Good