Chocolate Theatre Café , Henley-on-Thames
13 Thameside, Henley-on-Thames, RG9 1BH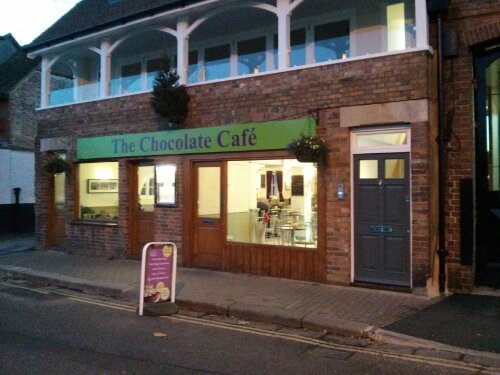 Friday 22nd November 2013
SCONES
Two medium, warm, fruit scones. These were quite simply the best scones we've experienced since beginning Cream Tea Review. They were freshly cooked, warm, perfectly buttery and soft on the inside, but lightly crisp on the outside. A benchmark from which future reviewed scones will undoubtedly be compared! Perfect.
JAM
A dish of good quality strawberry jam which was easily enough for the two open scones.
CREAM
A generous dish of lovely clotted cream.
TEA
Had this been a good quality leaf tea, then the Chocolate Theatre Café would have easily scored our very first perfect 10/10. Disappointingly however, the Lapsang Souchong bags were not great and were so lacking in flavour we were unsure whether we'd even been served the right pot. Shame.
AMBIENCE & SERVICE
The sign outside the Chocolate Theatre Café confidently boasts "Best Cream Tea in Town!!" and if our experience was anything to go by, it's hard to imagine anyone could disagree. The scones were the best we've encountered anywhere so far, there was more than ample jam and clotted cream and the location overlooking the banks of the river Thames was truly delightful. The only disappointment was the tea.
 Score: 8.5/10 ~ Highly Recommended