Patisserie Lila, Borough Market, London [CLOSED]
1 Bedale St, Southwark SE1 9AL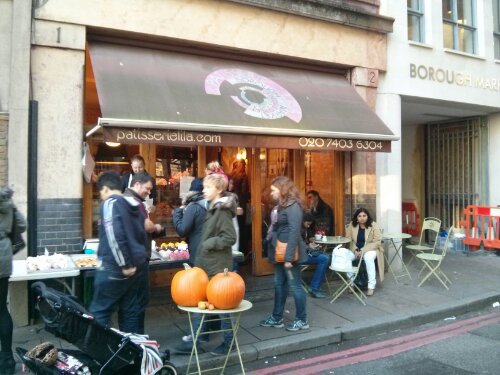 Saturday 2nd November 2013
SCONES
Two medium, warmed scones—one fruit and one plain.
JAM
A dish of strawberry jam which was just about enough for the two open scones.
CREAM
Points lost here for the fresh (not clotted) cream. Served in an egg cup, as you can see from the photo below, there wasn't really quite enough.
TEA
Earl Grey tea bags in a blue teapot which was fine.
AMBIENCE & SERVICE
This was the second French-style café we visited in a weekend. We really loved the décor, with its shabby chic look, though to be honest, we were less enamoured with the chipped crockery. The cakes at Patisserie Lila looked great, but perhaps we have learned this weekend, that if you want a properly executed English cream tea, then a French patisserie is not the place to find it.
Score: 5.5/10