The Polly Tearooms, Marlborough
26 High Street, Marlborough, Wiltshire SN8 1LW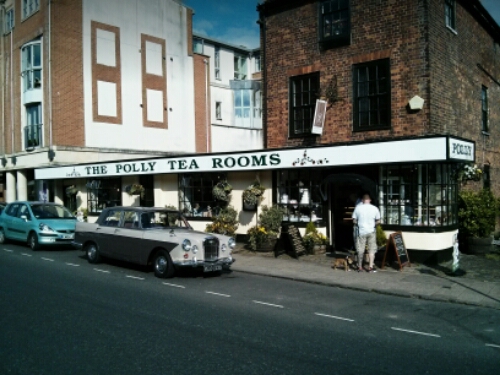 Saturday 17th May 2014
SCONES
A choice of plain or fruit scones which were kept at a low-warm temperature in a special heated display cabinet. They were quite large scones and were beautifully fresh. A lovely soft, buttery texture. Delicious!
CREAM
A ramekin of lovely clotted cream which was more than enough for the open scone halves.
JAM
A good quality, dark coloured Strawberry jam with plenty of fruit, which again was more than we needed for the scones.
TEA
No Lapsang Souchong, but we enjoyed the loose-leaf Earl Grey tea served using the paper tea filters.
AMBIENCE & SERVICE
We really liked the feel and style of this proper tearoom. The white tableware was immaculately clean and the Royal Worcester fine china was a pleasure. Our only minor issue was the slightly surly, end-of-the-day service we received from our waitress.
Score: 9/10
Highly Recommended