Cadwell farm, Arlesey Rd, Ickleford, Hitchin SG5 3UA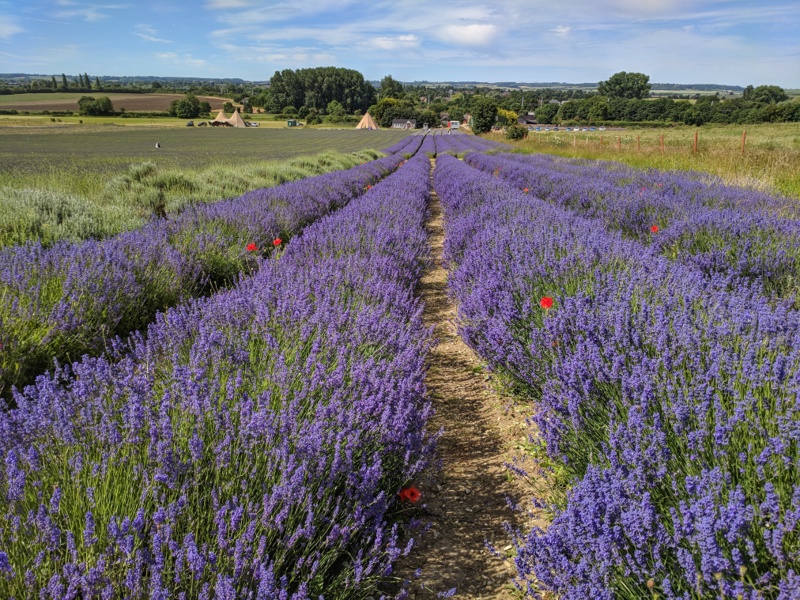 23 June 2018
SCONES
The scone provided at the Hitchin Lavender Tearoom was plain, medium-sized and microwave warmed. Soft on both the outside and inside, it was a little disappointing compared with the other aspects of the cream tea.
CREAM
The clotted cream, supplied in a white ramekin dish, was the bare minimum serving you would want to top the two open scone halves.
JAM
One of the highlights of the cream tea, was Hitchin Lavender's own Raspberry Lavender Jam which was sweet, fragrant and contained plenty of fruit. Delicious.
TEA
In addition to the regular tearoom tea offerings, Hitchin Lavender have a selection of loose leaf teas (Herbal & Black) containing lavender. We chose the Lavender Wendy Tea — Rooibos Earl Grey, Lavender Flowers, Rose Petals, Marigold Petals and Cornflower Petals. Needless to say, it provided a beautiful floral fragrance and palate and made for a great counterfoil to the scones, jam and cream.
AMBIENCE & SERVICE
On a sunny summer Sunday morning, it was an absolute delight sitting outside in the attractive garden next to the converted barn tearoom and shop. The table and plain white crockery was clean and we especially liked the attractive, red teapot. The staff were all smiley and friendly.
SCORE: 7/10 ~ Good