Harriets Cafe Tearoom, Cambridge
16 & 17 Green Street, Cambridge CB2 3JU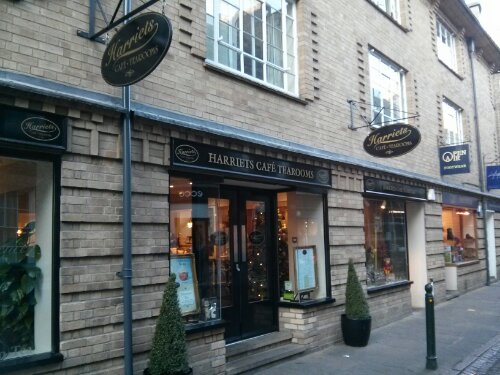 1st December 2013
SCONES
A choice of plain, fruit or even cheese (!) scones. We chose one plain and one fruit scone each. They were fresh, slightly warm, nicely crisp on the outside with a pleasing light sugar dusting.
JAM
A small dish of strawberry jam which was unfortunately, barely enough for the open scones. If we'd been enjoying the scones as part of the fabulous-looking Afternoon Teas which were being served, then the jam might have been sufficient along with the other sweet cakes, but as part of a Cream Tea where the scones were the main event, it didn't really feel enough.
CREAM
Clotted, but, as per the jam, we could have done with a bit more. One of the dishes of cream was so cold (having come straight out of the fridge) it was too hard to spread. We sent it back and was instantly given a replacement, which was fine.
TEA
Harriets (no apostrophe apparently), has a wonderful choice of leaf teas. The Lapsang Souchong we chose was great. It actually looked a bit grey and weak, with too few leaves in the pot, but surprisingly it had a good depth of flavour and was obviously a very good quality tea.
AMBIENCE & SERVICE
This is a proper Tea Shop experience and we couldn't fault the staff for friendliness or service (even those labelled 'In Training'). The meet and greet was charming and our 'hard' cream was replaced instantly and apologetically. Background music was provided by a live pianist who gently ambled her way through Beethoven and a selection of Christmas carols which made for a delightful counterpoint to the chink of crockery and Sunday afternoon Cambridge chatter.
Score 8/10