11 Broad Street, Oxford OX1 3AP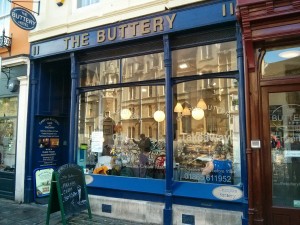 Saturday 2nd August 2014
SCONES
We chose the "Afternoon Cream Tea" which  included one medium sized fruit scone. The "Classic Afternoon Cream Tea" had two scones. The scone was warmed and had a nice crunch on the outside, but was perhaps a bit dry.
CREAM
When it comes to presentation, unfortunately, this was the worst we've been offered to date. As you will see from the photo below, the cream (not really quite enough for the scone) was merely dollopped on the side of the plate. Trying to be positive, it was at least clotted cream.
JAM
Strawberry jam served on the plate. It was a sufficient amount for the scone however.
TEA
No Lapsang Souchong, but the bagged Earl Grey was fine.
AMBIENCE & SERVICE
We really hate doing negative reviews on this site and only generally choose establishments to visit which specifically advertise their cream teas and look like they're going to be good. The Buttery certainly looked promising from the outside and the décor inside was attractive. Unfortunately, the cleanliness of the crockery and table (even after we'd asked if it could be wiped), the couldn't-care-less attitude of the waiter and the poor presentation meant this was a really disappointing experience. Hopefully, we were just unlucky on the day.
Score: 3/10