Byways Tearooms, Bakewell
Water Lane, Bakewell DE45 1EU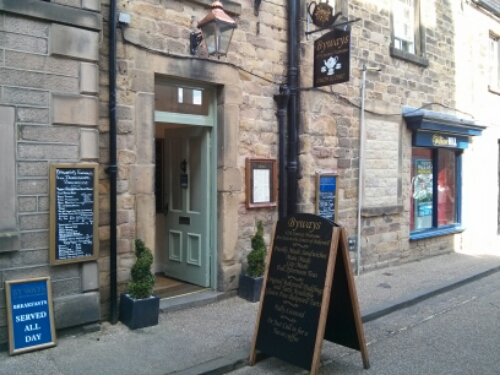 Saturday 9th August 2014
SCONES
A medium-sized fruit scone which was rather hot, having come directly from the oven. Freshly made (or possibly reheated) we couldn't fault it. Deliciously crunchy on the outside, beautifully fresh, soft and buttery in the middle. Perhaps a choice of plain scones would have been nice, but otherwise 'scone perfection'!
CREAM
An ample sized (40g) pot of Rodda's clotted cream.
JAM
No choice of jams offered, but a dish of good quality Strawberry jam and plentiful for the open scone halves.
TEA
Byways have a wonderful choice of leaf teas on their menu and the Lapsang Souchong we chose had a beautifully rich depth of flavour. No brand name was given, but this tea was as good as we've been served anywhere.
AMBIENCE & SERVICE
The town of Bakewell is certainly not short of places to partake of a cream tea, but we can't imagine you'll find one better than at Byways Tearooms. Our two waiters were both helpful and charming and the plain white crockery was clean and attractive. The clientèle appeared to be a mix of tourists and locals. We liked it so much we returned the next morning for their 'Full Derbyshire Breakfast'!
Score: 9.5/10 ~ Highly Recommended