Mr H's Tearoom, Ambleside
Lake Road, Ambleside, LA22 0AD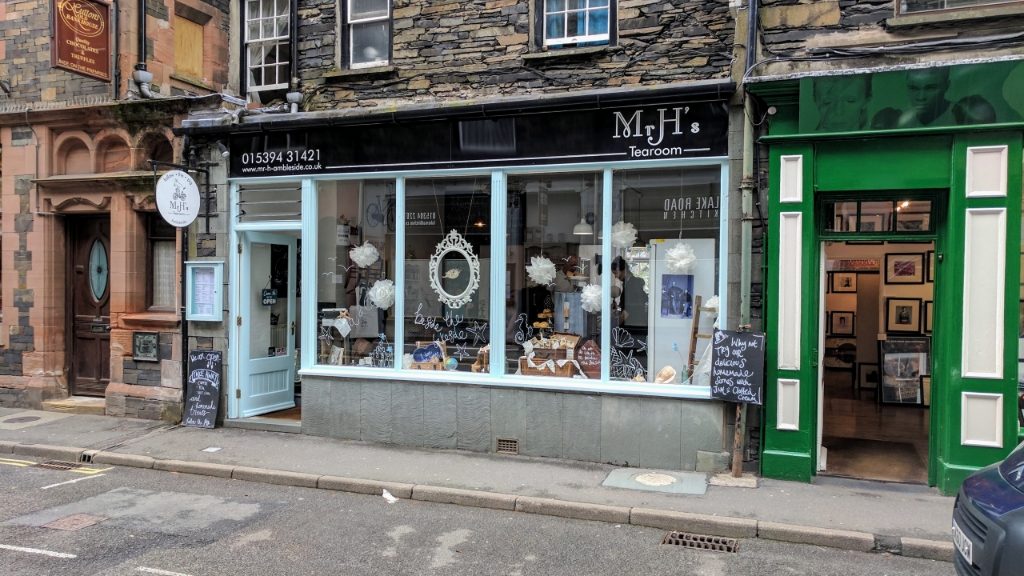 8 July 2017
SCONES
Plain or fruit scones? We opted for the former, which came medium-sized (slightly lopsided), in a traditional, homemade style. It was nicely warmed, was crisp on the outside and light and soft inside. Yummy!
CREAM
The golden clotted cream was served in a small glass jam jar and provided an appropriate topping the two open halves of scone.
JAM
A standard 28g jar of Wilkin & Son Tiptree Strawberry Jam was provided without choice. It was only just enough to provide a good covering or the scone halves.
TEA
Although Mr H's didn't have our favourite Lapsang Souchong (none of the cream teas we have experienced in Cumbria do), we were pleased to see they did serve leaf tea rather than bags. The Earl Grey from Suki Tea was great.
AMBIENCE & SERVICE
We were rather late in the day when we visited Mr H's (4pm on a Saturday afternoon – they close at 4:30) and we were the only customers in the fun, quirky teashop. The staff were friendly, attentive and professional and the table and crockery was clean. We especially liked the fresh strawberry garnish which was a nice touch.
SCORE 8.5/10 – Highly Recommended