The Gallery, Fortnum & Mason, London
181 Piccadilly, London W1A 1ER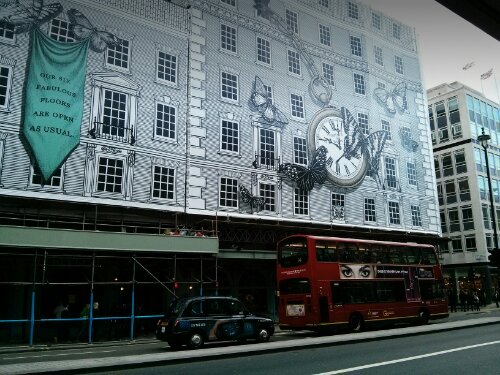 Sunday 23rd March 2014
SCONES
Two slightly warm, small-sized scones—one plain and one fruit. Light and soft. Perhaps they might have benefited from more of a crunch on the outside, but they were pretty good. Sadly, Fortnums no longer make their scones on the premises, so there's no chance they will ever be 'oven-fresh', but nevertheless we really enjoyed them and each half was just a couple of mouthfuls.
CREAM
The Cornish clotted cream here was the most golden we've encountered and was really delicious. The quantity was perfect for the four open scone halves.
JAM
A good quality strawberry jam which, as with the cream, was just the right amount for the four open scones. They seem to know what they're doing at F&M 🙂
TEA
The Tregothnan Lapsang Souchong leaf tea which we chose from the great selection on the menu, was probably the best tea we've been served yet whilst carrying out cream tea reviews for this site. It was large-leafed and had a great depth of deliciously smoky flavour.
AMBIENCE & SERVICE
This was the most expensive cream tea we've reviewed yet—over £20 for two scones with jam & cream and two small pots of tea (including service). Was it worth it? Absolutely! In terms of quality, you get what you pay for and (as you would expect at Fortnum & Mason) the service was impeccable and friendly.
The outside of the building is undergoing work at the moment, so the view from our table by the window was somewhat restricted by scaffolding, but this certainly didn't spoil the overall experience.
We would have really loved to have given this our very first perfect 10 out of 10, but (after much deliberation) whilst the scones were good, they weren't perfect. Still, at 9.5/10 The Gallery at Fortnum & Mason gains our highest score yet, so sits proudly at the top our Cream Tea League Table.
Score: 9.5/10 ~ Highly Recommended