Bakehouse, St Albans (CLOSED 2016)
Heritage Close, High St, St Albans, Herts AL3 4EB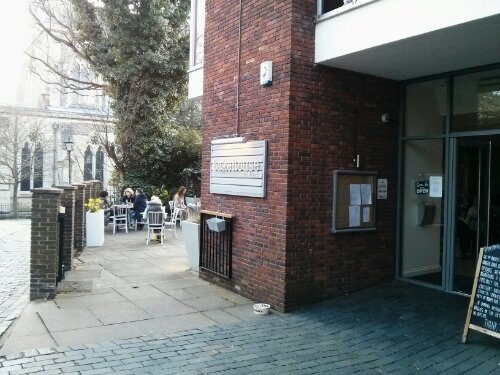 Saturday 29th March 2014
SCONES
The scones here at Bakehouse, were some of the best (if not the best) we've had so far whilst reviewing for Cream Tea Review. They were medium-sized fruit scones and as we were (unusually) given the choice of cold or warm, we obviously opted for warm. Often 'warm' means a few seconds zapped in the microwave, which to be fair, can improve cold scones, but these today had clearly been properly warmed in the oven. The result was they were as close to being freshly cooked and served from the oven as you could get. A nice crunch on the outside, soft and light on the inside. Fantastic!
CREAM
A 40g tub each of Rodda's clotted cream which was clearly more than enough for one scone.
JAM
An individual little jar of Wilkin & Sons jam each. One of us received strawberry and the other raspberry.
TEA
They didn't have our favourite Lapsang Souchong, so we opted for Earl Grey instead and the Brew Tea Co whole leaf tea bags were good. The tea was served in a large, white, attractive teapot.
AMBIENCE & SERVICE
The staff were very friendly and helpful. It was quite busy and there wasn't room upstairs, but we found a bright table by the window downstairs overlooking the garden and the Abbey which was really lovely.
On reflection, we now wonder whether Bakehouse undercharged us for our cream tea, as £2.50 each for a scone with cream and jam plus £2.10 for a shared large pot of tea, seems ridiculously good value!
Score: 8.5/10 ~ Highly Recommended