The Flour Station Bakery, Camden Market
Unit 91, North Yard, Camden Market, Chalk Farm Road, London NW1 8AH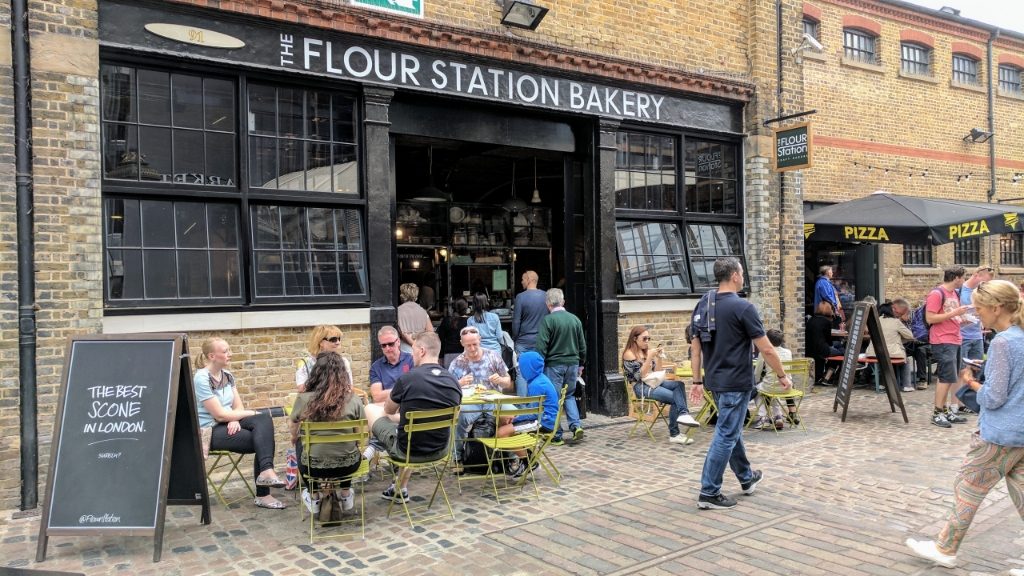 25th June 2017
SCONES
The large sign outside The Flour Station boasts "THE BEST SCONE IN LONDON. SURELY" and a sign inside claims "straight from the oven". Expectations were high! Sadly, they didn't deliver on either account. The unusual glazed dome-shaped scone (taken from a mound on the counter) was overly heavy, bready and had a slight baking soda aftertaste.
CREAM
The clotted cream came in a cheap plastic dish straight out of the fridge. Unfortunately, not only was there not enough cream for the two scone halves, it was also too cold to spread easily.
JAM
The strawberry jam (no choice given) came in the same style plastic container and only provided a thin scraping across the two open scone halves.
TEA
The Flour Station is more of a bakery than a tea room, so we didn't expect a range of teas. We chose Earl Grey and The London Tea Company bag was unremarkable, but acceptable.
AMBIENCE & SERVICE
Located in the lively, touristy Camden Market, The Flour Station Bakery strikes that bare-wall urban vibe. The plates were classic enamel white and blue-rimmed camping issue and the teapot and mugs an attractive slip-ware. Unsurprisingly, the milk came in the de rigueur mini glass milkbottle.
SCORE
6/10