The Doll's House on the Hill
44 High St, Harrow HA1 3LL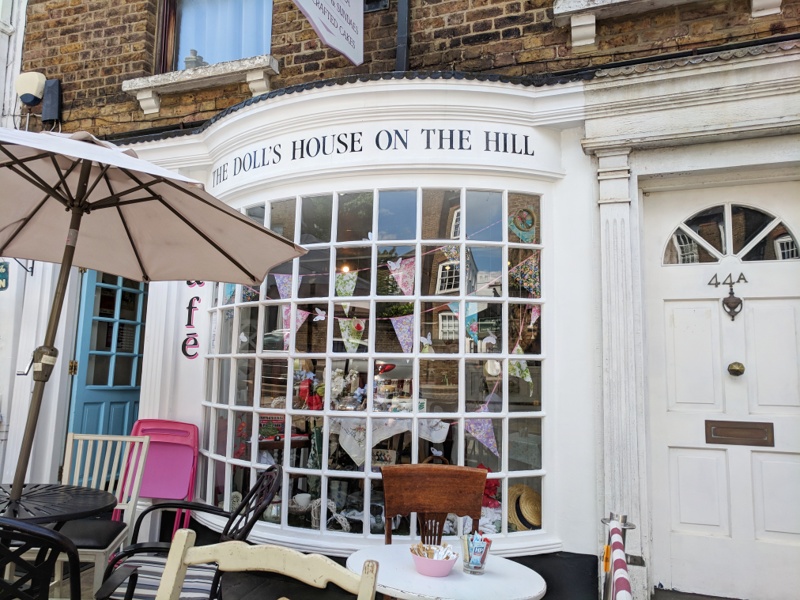 3 June 2018
SCONES
Scones at The Doll's House on the Hill are all freshly baked and "worth the wait" according to the menu. The large, sultana scone (gluten-free also available) was still very warm, soft and with an unusual yellow hue (we were told they add a little semolina). Very nice.
CREAM
The clotted cream was served in a small white dish, but was insufficient for the two large scone halves. We therefore asked for more, which came without any problem at all.
JAM
A standard 28g jar of Wilkin & Son Tiptree Strawberry preserve was supplied, which was the minimum you could get away with for the large scone.
TEA
There was a reasonable choice of teas on offer and we chose our favourite Lapsang Souchong. Unfortunately, it arrived very quickly, which meant it was largely consumed by the time the scone had been baked and served. The unknown brand teabags provided an unremarkable brew.
AMBIENCE & SERVICE
The Doll's House on the Hill is a very attractive, vintage-styled cafe and restaurant with mix and match crockery and decorative bunting. We sat outside in the sunshine on the front. Everything was clean and the staff friendly.
SCORE: 7/10 ~ GOOD