Biddies Tea Room, Norwich
15 Lower Goat Lane, Norwich NR2 1EL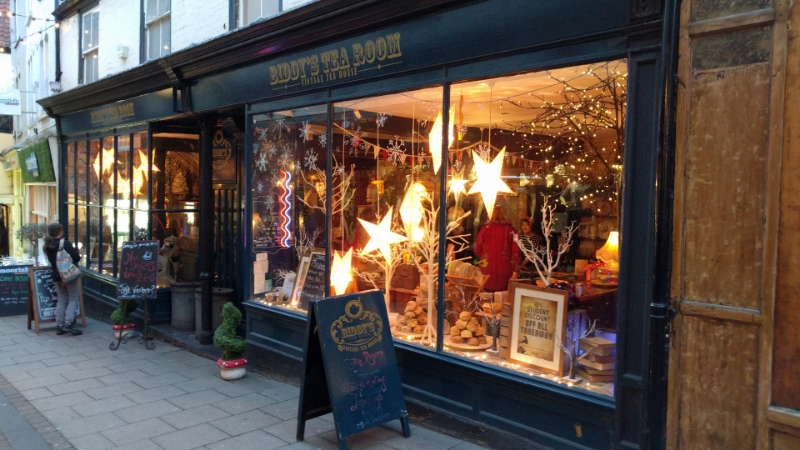 18 December 2015
SCONES
A great choice of plain, lavender or spiced fruit scones. We selected one plain and one lavender variety, which were both beautifully fresh, warmed, had a nice crunch on the outside and lovely and soft on the inside.
JAM
We were offered strawberry jam for the plain scone and lemon curd for the lavender scone (the latter of which we declined). What actually arrived at our table were 30g jars of Bonne Maman raspberry jam which were fine. We enjoyed small slice of fresh strawberry provided as a garnish atop the cream – nice touch.
CREAM
A very small glass pot of clotted cream, which to be honest, wasn't really quite enough for the size of the open scone halves.
TEA
Biddies Tea Room has a really superb range of leaf teas. We selected our favourite Lapsang Souchong which was served in a large earthenware tea pot. The waitress advised that additional tea and milk were available should we want it, however, the large pot of deliciously smoky tea provided was more than sufficient.
AMBIENCE & SERVICE
The staff were all very friendly and the mismatched crockery perfectly clean. We really liked the eccentric, quirky style of Biddies and the antique shop decor is great. Our only issue was with our table, which had been wiped, but being wood was still damp and had that slightly tacky feeling you get which made it feel uncomfortably unclean (even though it wasn't).
Score: 8.5/10 ~ HIGHLY RECOMMENDED