Wilkin's Jam Factory, Factory Hill, Tiptree, Colchester, CO5 0RF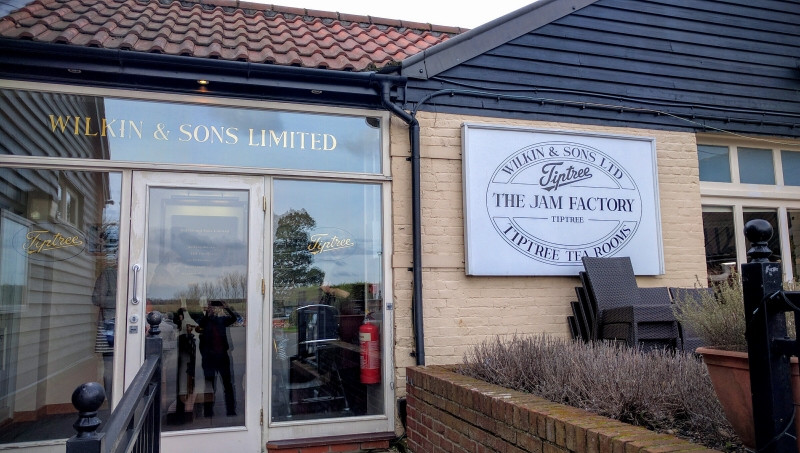 14 February 2016
SCONES
Two chunky, sugar-dusted fruit scones, made on the premises and nicely warmed. They maintained a lovely bite on the outside, but being so thick, were a bit heavy and had a very slight bicarbonate flavour.
JAM
What else would you expect at the home of Wilkin & Sons, but a jar (42g) of their famous Little Scarlet Strawberry jam. We dare not imagine how many jars of Tiptree preserves we must have been served on our cream tea review quests, but it was a real treat to experience one at the source.
CREAM
The clotted cream came in a standard plastic Roddas carton. As the the scones were so thick, the quantity of jam and cream was barely sufficient and we were actually glad of the butter! We've only been served butter a handful of times on our travels and we wouldn't normally require it.
TEA
There was a limited choice of teas, but the bagged Earl Grey we chose was really delicious with a fragrant floral flavour.
AMBIENCE & SERVICE
Being Sunday lunchtime on Valentine's Day, the queue for tables at the Tiptree Tearoom was rather long. Fortunately, by the time we had visited the quaint Museum and the giftshop, it had subsided a little and we didn't have to wait too much longer. The table and the plain white China was clean and the waitresses remained charming and cheery in spite of the hectic workload.
SCORE 7.5/10 ~ Good