St Pancras Renaissance, London
Euston Road, London NW1 2QR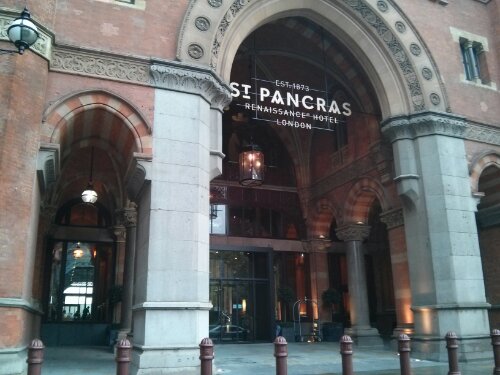 Sunday 20th October 2013
SCONES
Two freshly made, slightly warm, good sized scones. We had two cream teas, but would have probably been happy to have shared one between the two of us. Interestingly, of the four scones served, one had a few sultanas whilst the others were 100% plain. Lovely, light and soft on the inside. If we were being over-critical, perhaps they might have benefited from more of a crunch on the outside, but they were really very good.
CREAM
The jam and cream were served in a very attractive stand. The clotted cream was delicious, but our only real criticism of this whole cream tea, was that there wasn't really quite enough cream for all four open scones. In hindsight, if we'd asked the utterly charming staff for more cream, we expect it would have been provided without a moments thought.
JAM
Both strawberry and apricot jam were supplied by default, presented in a stylish stand along with the cream. The combined amount of jam supplied was just about right for the four open scones.
TEA
No Lapsang Souchong on the menu and we didn't ask, but there was a good choice otherwise and the Earl Grey loose leaf we chose was great.
AMBIENCE & SERVICE
They say you get what you pay for and at £23.63 for two cream teas (incl. service), this was certainly the most we have paid so far on this site, in the pursuit of cream tea heaven. However, the service here was impeccable and the spectacular location in the grand lobby of this iconic London hotel is certainly hard to beat.
Had it not been for an off-putting, half undusted, eye-level table-top adjacent to our table and too little clotted cream for the number of scones, the St Pancras Renaissance might have achieved our very first perfect 10/10. Perhaps we will just have to save up our pennies and try it out again soon 🙂
Score: 9/10 ~ Highly Recommended