Baskervilles Tea Shop, Palmers Green
66 Aldermans Hill, London, Palmers Green, London N13 4PP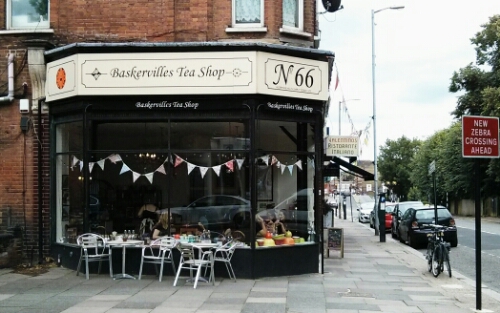 Sunday 29th June 2014
SCONES
Two medium-sized scones—one fruit and one plain. These were both quite dry although not too heavy. The scones had been heated in the oven and were nicely warm on the outside, but as the centres were colder than room temperature, we suspected they had previously been frozen.
CREAM
A small ramekin of clotted cream. Not really quite enough for the two scones.
JAM
A small ramekin of a nice strawberry jam. Again, not really quite enough for the two scones.
TEA
The highlight of this cream tea was the leaf Lapsang Souchong which we chose from a really impressive menu of teas. A deep, rich flavoursome brew. Delicious!
AMBIENCE & SERVICE
We really liked the vintage tearoom style of Baskervilles. The staff were very friendly and we really wanted to score it more highly. Unfortunately, the pretty, mismatched crockery (which was charming), was not entirely clean.
Score: 6/10