Lee Rd, Lynton EX35 6HW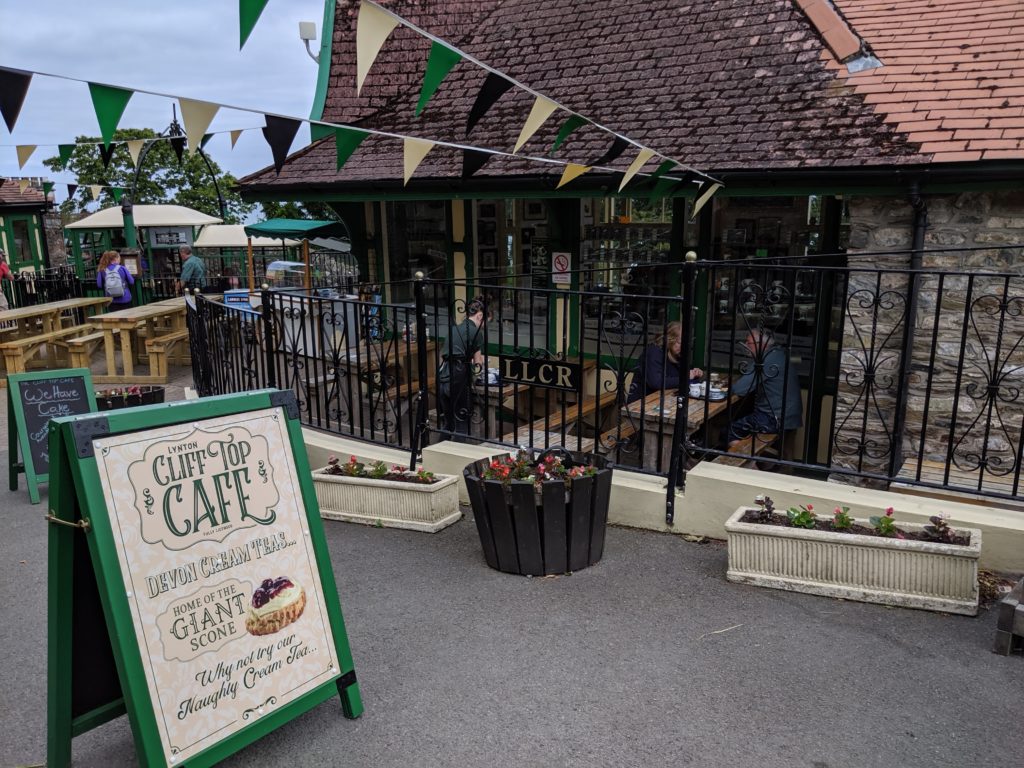 30 June 2019
SCONES
As you can see from the sign in the photo above, Lynton Cliff Top Cafe sell themselves as the "Home of the Giant Scone". Such a claim rings alarm bells here at Cream Tea Review, as it's all very well having larger scones, but if the amount of cream and jam is not equally generous then, you're set up for a ratio fail. However, on this occasion we were delighted to find that not only was there enough clotted cream and preserve for large plain scone (fruit scones also available), but we had too much! The scone itself was fresh, although a little soft and perhaps more 'cakey' than scone-like. Good though.
CREAM
The Devonshire clotted cream was served in a glass dish and was more than enough for the two open 'giant' scone halves.
JAM
Strawberry jam was served as default and again was generous in quantity. As we had strayed from Somerset into North Devon for the day, we felt obliged to load one half of the scone the Devon way—cream first 🙂
TEA
Not a huge range of teas here, but the local (Porlock) Miles Tea Earl Grey (bags) was was good.
AMBIENCE & SERVICE
The view from the picnic benches looking down over Lynmouth Bay made for a wonderful backdrop for this cream tea. The staff were very smiley and welcoming and we really liked the mismatched crockery.
SCORE ~ 7.5/10 Good