Bea's of Bloomsbury, St Paul's, London
83 Watling St, London EC4M 9BX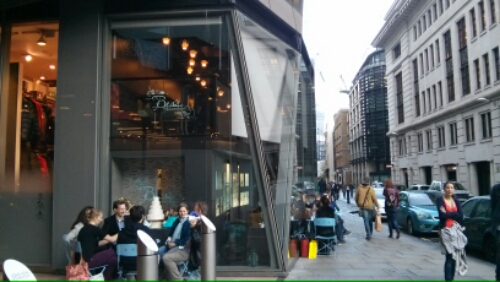 19 October 2014
SCONES
Two medium/small plain scones. They had an almost 'short-bread' texture and one of them was very nice. Unfortunately, the other was not actually fully cooked—still a little doughy and collapsed on cutting.
CREAM
A small dish of clotted cream. Just the right quantity for the small scones.
JAM
A small dish of raspberry jam (no choice) which was insufficient for the four open scone halves.
TEA
A lovely flavoursome Lapsang Souchong leaf tea.
AMBIENCE & SERVICE
Having thoroughly enjoyed a full Afternoon Tea at the Bloomsbury branch of Bea's earlier in the year (at which the scones were particularly outstanding), we had high hopes for sampling the Cream Tea offering here. We expect we were just unlucky on the day, but we had issues with dirty crockery, unapologetic waiter spilt tea, an undercooked scone and insufficient jam. The surroundings are stylish and the staff friendly and we would go back to try again, but today wasn't their day.
Score: 6.5/10