The Mock Turtle, Brighton
4 Pool Valley, Brighton, East Sussex BN1 1NJ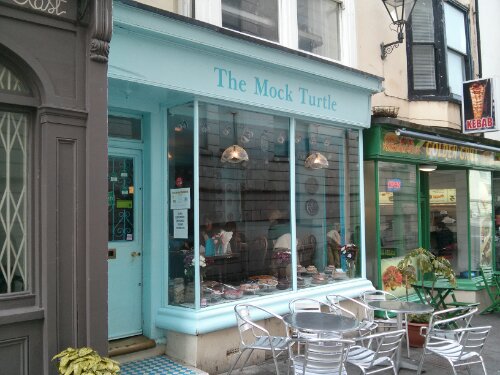 Sunday 8 April 2013
SCONES
The scones here were a rather unusual shape (not a bad thing). They were quite large, but unfortunately they were slightly burnt in both taste & appearance. There was a good choice however – white, wholemeal or fruit.
CREAM
Clotted and plentiful.
JAM
The Strawberry jam was claimed to be homemade, but came across as a bit manufactured and quite jelly-like and lacking in fruit.
TEA
An excellent choice was available. The Lapsang Souchong we had was a good quality leaf tea.
AMBIENCE & SERVICE
A proper tea & cake shop. Clean crockery etc. Friendly staff. Good service. We were sat downstairs which was a bit gloomy and oppressive in comparison to the main room upstairs.
Overall Score: 6.5/10